MUNICIPAL OFFICE VIRUDHUNAGAR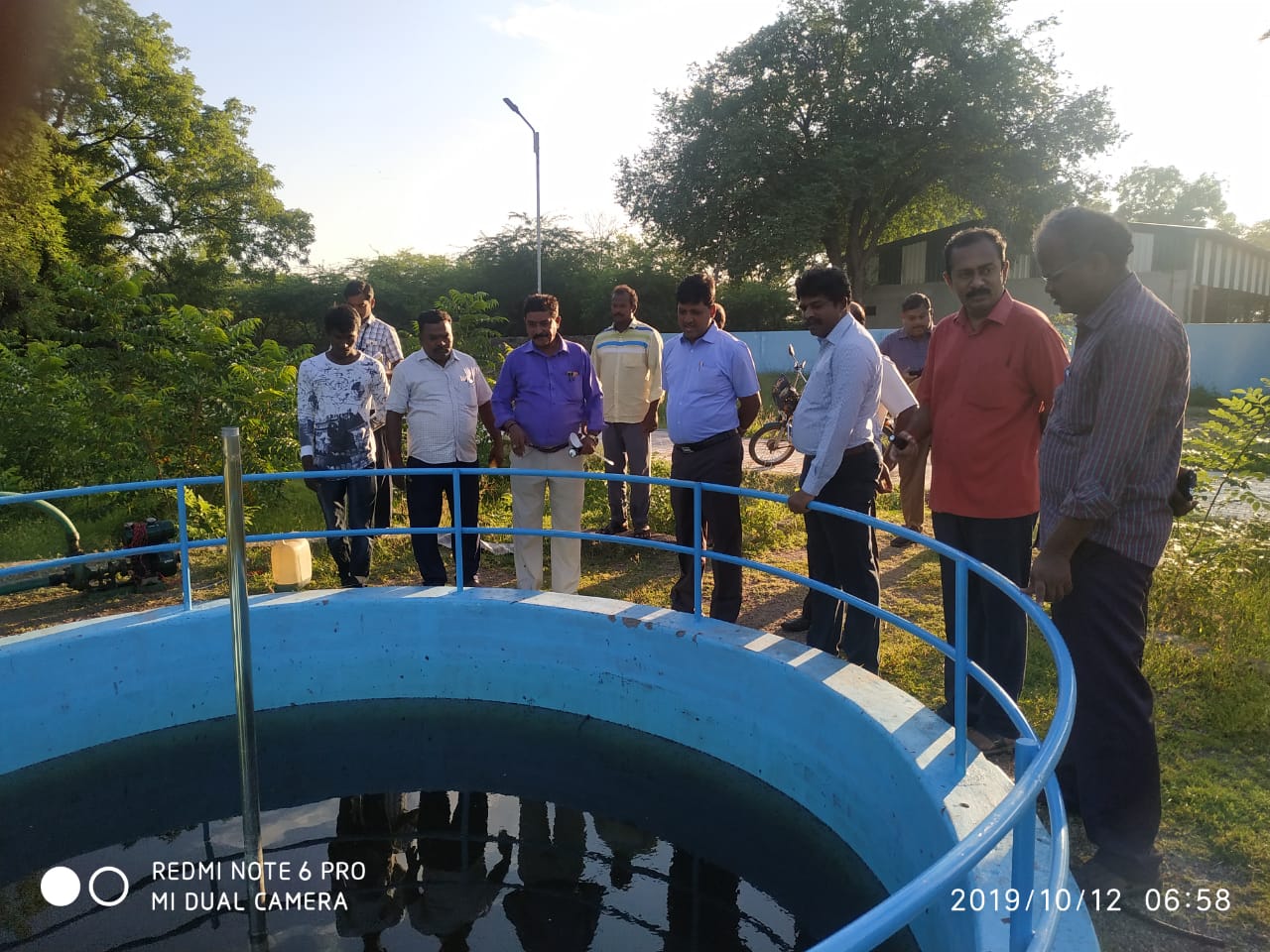 ABOUT MUNICIPALITY
1.History of the Municipality
Virudhunagar Municipality was constituted as Third Grade Municipality from selection grade Town Panchayat with effect from as per G.O.M.S 103 dated 13.3.1915.Then Upgraded as per G.O.M.S.1514 dated 13.10.1956 and now Upgraded as Selection Grade from 22.5.1998.This Municipality consists of Five villages that is Virudhunagar, Kottaipatty, ChinnaMoopanpatty, Allampatty and Muthuramanpatty.
The area of this Municipality is 6.60 Sq.K.M, and the Population is 73003 as per 2001 census.Virudhunagar town is divided into 36 wards.The Municipality election was conducted on 16-10-2001.The Municipal Chairman,Vice Chairman, ward councillors for 36 wards are elected.
2.Summary of Activities and features
In Virudhunagar Municipality there is a facilitation counter for the "On-line" Tax Collection Center , Sevaimaiyam and two tax Collection center in town & remote area.
In front of Virudhunagar Municipality there is a Rain Water Harvesting Information Centre. It provides information and guidelines to public relating to Rain Water Harvesting Structures.
3.General information of Municipality
After the fiburcated District from Ramanathapuram District the Virudhunagar District was newly formed,Virudhunagar is the head quarters of this District .Virudhunagar is the fast growing Urban centre and is famous for its wholesale Trade in Cereals,Dhalls and oils,Commercial and Industrial activities.Virudhunagar located in N.H.T. and its nearness to the industrially forward towns like Sivakasi and Rajapalayam.It is also connected by Railway with Madurai Tuticorin and Nagarkovil.Virudhunagar is the birth place of the famous National Leader and former State Chief Minister of this state Late Thiru Kamaraj.
Mobile App for  All Tax Payment and other Services:
Contact Address :                                            Phone No:

MUNICIPAL COMMISSIONER                          Off.No.04562243861
DOOR.NO.43, MUNICIPAL OFFICE ROAD,        Mobile:7397389922
VIRUDHUNAGAR -626 001.                            commr.virudhunagar@tn.gov.in
75-வது ஆண்டு சுதந்திர தினம் கொண்டாட்டம்

  Novel Corona Virus [COVID 19]
 "விழித்திரு, விலகியிரு, வீட்டிலேயே இரு"
Novel Coronavirus  disease ( COVID-19 )  is an infectious disease caused by a newly discovered coronavirus. Most people infected with the COVID-19 virus will experience  mild  to  moderate respiratory illness and recover without  requiring  special  treatment.   Older  people,  and  those  with underlying  medical  problems  like  cardiovascular  disease,   diabetes, chronic  respiratory  disease,  and  cancer  are  more  likely  to  develop serious illness.
Control Room Help Line : 04562 243861
Gasifier-Crematorium-Burial Ground Details
For More information just explore:  WHO ,  MoHFW   &   
ULB Election 2022 – Reservation of Wards
Contact Address
Tmt.T.Leena Simon.B.Sc.,
 Municipal Commissioner,
Municipal Office,
43 Municipal Office Road,
Virudhunagar– 626 001.
Mobile: 7397389922

E-mail:
commr.virudhunagar@tn.gov.in

ePay
The new website https://tnurbanepay.tn.gov.in has been created by incorporating All municipalities and Corporations across Tamilnadu, except Chennai by providing facilities pay tax for asset, drinking water, housing, sewerage and lease categories, and providing birth certificates on-line.
General
District  : Virudhunagar
Region   : Tirunelveli Region
State       : TamilNadu
Area
Total     : 6.60 Sq.Kms
Population
Total     : 72144
Male      :  35773
Female :  36338
Tirunangai:33