Welcome to Thoothukudi Corporation
Thoothukudi is a port City situated in the Gulf of Mannar about 125Kms. North of Cape Comorin. Thoothukudi City was elevated as a Corporation on 05.08.2008. This City Municipal Corporation is spread over an extent of 90.663 sq.kms. and has a population of 3,20,466 as per 2001 census. Thoothukudi Corporation is divided into 60 wards after its expansion in the year 2011 and these wards are comprised in four zones – (i.e) East,West,North & South. East zone has 14-16 and 19-33 wards, West zone has 34-47 wards, North zone has 1-13 and 17,18 wards and South zone has 48-60 wards
Novel Corona Virus [COVID 19]
விழித்திரு, விலகியிரு, வீட்டிலேயே இரு
Novel Coronavirus  disease ( COVID-19 )  is an infectious disease caused by a newly discovered coronavirus. Most people infected with the COVID-19 virus will experience  mild  to  moderate respiratory illness and recover without  requiring  special  treatment.   Older  people,  and  those  with underlying  medical  problems  like  cardiovascular  disease,   diabetes, chronic  respiratory  disease,  and  cancer  are  more  likely  to  develop serious illness.
Control Room Help Line : 0461-2326901
ULB ELECTION 2022_RESERVATION OF WARDS
For More information just explore:  WHO   &  MoHFW 
        75வது சுதந்திர தின கொண்டாட்டம்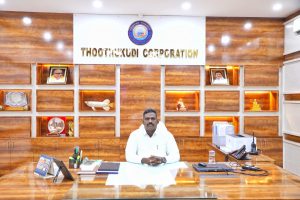 Contact Address
Mr.C.Dinesh Kumar  I.A.S.,
Corporation Commissioner
Thoothukudi Corporation
Thoothukudi-628002
Phone Office :0461-2326901 to 903

E-mail:commr[dot]thoothukudi[at]tn[dot]gov[dot]in
1.To know your  water supply click   http://117.216.137.52:9080/water/
2.தூத்துக்குடி மாநகராட்சி  நடத்தும்  உணவுத் திருவிழா  ,  நாள் 12/10/19  சனிக்கிழமை  நேரம் : இரவு 7 மணி முதல் 9 மணி வரை   இடம்  :  ரோச் பூங்கா , கடற்கரை சாலை , தூத்துக்குடி
3.தூத்துக்குடி மாநகராட்சி நிலாச்சோறு மாதாந்திர உணவுத் திருவிழா இடம்  :  ரோச் பூங்கா ,நாள் 09.11.2019
4.இணைய வழி தோல் பாவைக்கூத்து – 25.07.2020 மற்றும் 26.07.2020 – மாலை 4  முதல் 6 வரை – zoom செயலி மூலம் இணையலாம் Meeting ID 83190654451 password-3GUhhD

ePay
The new website https://tnurbanepay.tn.gov.in has been created by incorporating All municipalities and Corporations across Tamilnadu, except Chennai by providing facilities pay tax for asset, drinking water, housing, sewerage and lease categories, and providing birth certificates on-line.
General
District  : Thoothukudi
State       : TamilNadu
Area
Total     : 90.633 Sq.Kms
Population
Total     :372408
Male      :
Female :