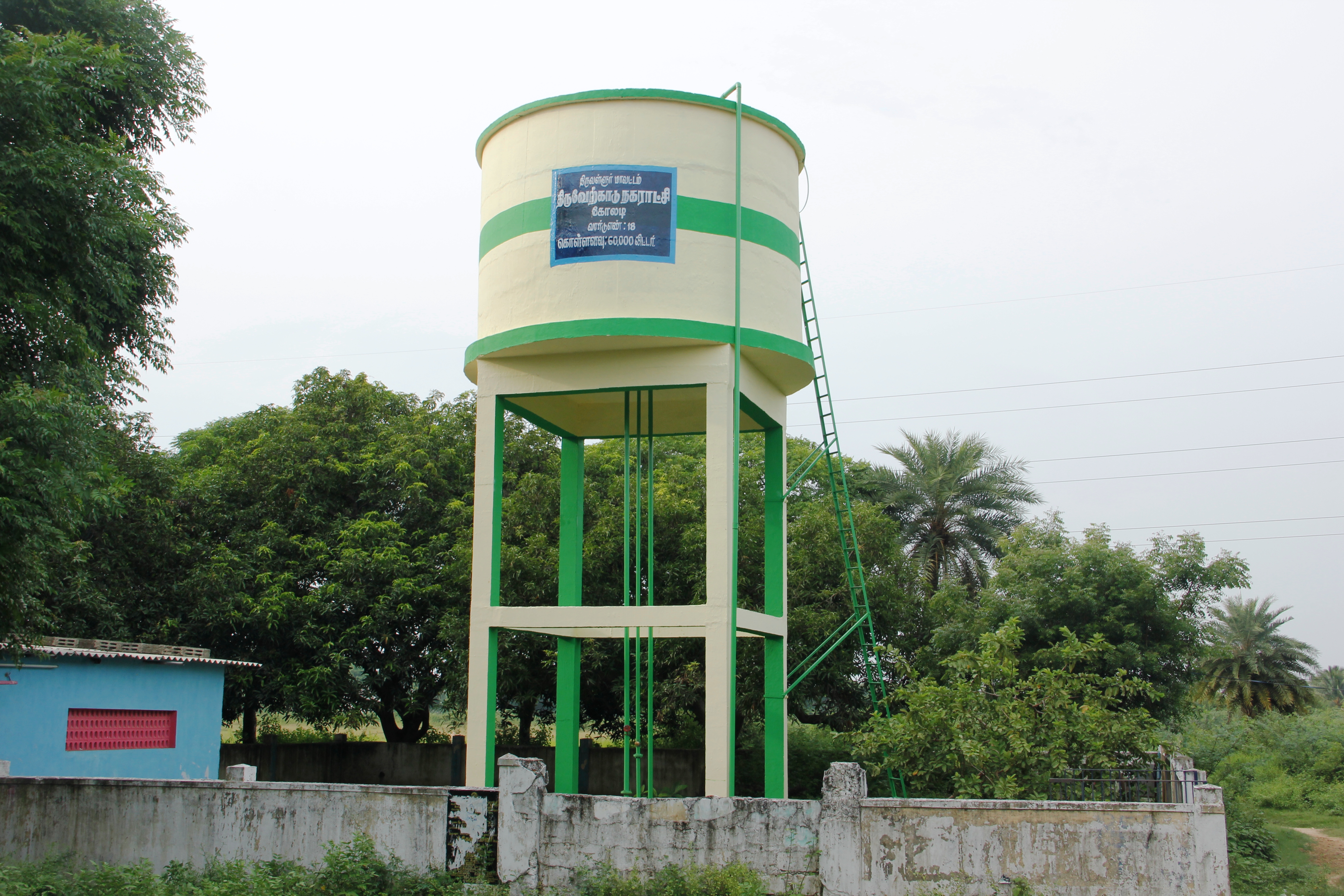 ABOUT MUNICIPALITY
Thiruverkadu Special Grade Municipal town in Thiruvallur District is Located at a very close proximity to Chennai mega city. This town possesses the appearance and Character similar to many of the town in Tamil Nadu which bears the seal of Religion.The famous temple in this town is devoted to Lord Sri Devi Karumariamman Temple and Lord Siva Temple. This Temple on each new moon day attract a large number of people from all around. It is the nucleus for the development of this town and present development pattern has emerged from a small village at the beginning of 50 years. Thiruverkadu town was constituted as a Municipality during from 2004 on wards, Thiruverkadu is functioning as a Grade III Municipality with 28.50 Sq.Km.in extent.
This town consists of four revenue villages namely Thiruverkadu, Numbal, Sundasozhapuram, Veeraragavapuram, Ayanambakkam, Perumalagaram and Koladi. The town is divided into 18 wards. Thiruverkadu town is located at a distance of 16 Kms. west of Chennai City. This lies on Chennai Bangalore National Highway Road and Chennai Thirupathi Trunk road. It is situated 13 9" North latitude and 79 55" E longitude. The present extent of this town is 10.75 Sq.Kms., Poondi reservoir from where drinking water is drawn to Chennai City is at about 9 Kms. from this town, Map No.(1) depicts the location of Thiruvallur Town.
| | | | |
| --- | --- | --- | --- |
| SL. NO | COMPLAINTS | WHO IS INCHARGE | CONTACT NUMBER |
| 1 | WATER SUPPLY | MUNICIPAL ENGINEER | 7397382203 |
| 2 | SWEEPING AND DRAINAGE | SANITARY OFFICER | 8939298437 |
| 3 | NEW TAX & NAME TRANSFER | REVENUE OFFICER | 9382783826 |
| 4 | BUILDING PLANNING | TOWN PLANNING INSPECTOR | 9344033050 |
 Novel Corona Virus [COVID 19]
விழித்திரு, விலகியிரு, வீட்டிலேயே இரு
Novel Coronavirus  disease ( COVID-19 )  is an infectious disease caused by a newly discovered coronavirus. Most people infected with the COVID-19 virus will experience  mild  to  moderate respiratory illness and recover without  requiring  special  treatment.   Older  people,  and  those  with underlying  medical  problems  like  cardiovascular  disease,   diabetes, chronic  respiratory  disease,  and  cancer  are  more  likely  to  develop serious illness.
Novel Corana Virus Prevention and Management Activities
GASIFIER – CREMATORIUM – BURIAL GROUND DETAILS
ULB-ELECTION-CCTV-INSTALLATION-RDMA-PROCEEDINGS
For More information just explore:  WHO   &  MoHFW 
CONTACT ADDRESS
THIRU. A. JAHANGIR BASHA, B.A.,
MUNICIPAL COMMISSIONER,
MUNICIPAL OFFICE,
1, SIVAN KOIL STREET, THIRUVERKADU,
CHENNAI – 600 077.
  : 044 – 26801886
commr.thiruverkadu@tn.gov.in



ePay
The new website https://tnurbanepay.tn.gov.in has been created by incorporating All municipalities and Corporations across Tamilnadu, except Chennai by providing facilities pay tax for asset, drinking water, housing, sewerage and lease categories, and providing birth certificates on-line.
| | |
| --- | --- |
| GENERAL | |
| DISTRICT | TIRUVALLUR |
| REGION | CHENGALPET |
| STATE | TAMILNADU |
| AREA TOTAL | 28.50 SQ.KMS |
| POPULATION | |
| MALE | 31779 |
| FEMALE | 31045 |
| TOTAL | 62824 |