MUNICIPAL OFFICE - MELVISHARAM
About Municipality
Melvisharam Municipality was constituted in the year 1951 as 1st Grade Town Panchayat and was subsequently upgraded as Third Grade Municipality from 01.10.2004 and now at present as per G.O.Ms No. 9 (MAWS) Dt.05.01.2011 upgraded as Second Grade Municipality. It has a population of 44786 (2011 Census) and an extent of 8.67 Sqkm. The town is divided in to 21 wards.
The Executive wing is headed by a Commissioner, and he is assisted by a team of officials like Administration Staffs, Collection Staffs, Public Health Staffs Engineering, Water supply Staffs and Town Planning staff.

Novel Corona Virus [COVID 19]
விழித்திரு, விலகியிரு, வீட்டிலேயே இரு
Novel Coronavirus  disease ( COVID-19 )  is an infectious disease caused by a newly discovered coronavirus. Most people infected with the COVID-19 virus will experience  mild  to  moderate respiratory illness and recover without  requiring  special  treatment.   Older  people,  and  those  with underlying  medical  problems  like  cardiovascular  disease,   diabetes, chronic  respiratory  disease,  and  cancer  are  more  likely  to  develop serious illness.
Control Room Help Line : 
ULB Election 2022 – Reservation for Wards and Reservation for Chairman-Gazette Notification
For More information just explore:  WHO   &  MoHFW 
Gasifier-Crematorium-Burial Ground Details
புரட்சித்தலைவி அம்மா விரிவான விபத்து மற்றும் ஆயுள் காப்பீட்டு திட்டம் – Draft BPL Family List / Application for New Family ( வறுமை கோட்டிற்கு கீழ் உள்ள குடும்ப வரைவு பட்டியல்/புதிய குடும்பத்திற்கான விண்ணப்பம் ) (TIPPS)
Contact Address
Selvi.M.S.PREETHI,
Municipal Commissioner
4/432, Thennandiyalam,
Melvisharam 632509
Telephone No.04172-266049
E-mail:commr.melvisharam@tn.gov.in
74th Independence Day celebrations at Collector's office in Ranipet district
Dear Melvisharam, on behalf of all the cleaners, E. Kesavan and N. Rajasekhar were awarded by the Honble Collector by the Hon'ble District Collector.
Ranipettai District Collector's Office on the occasion of the 74th Independence Day
Dear Supervisor On behalf of all the cleaning staff, E. Kesavan and N. Rajasekar were awarded the Wars by the Honorable District Collector.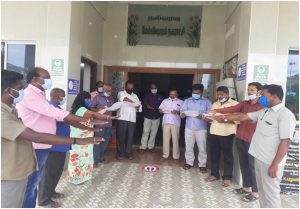 JUNE -12,"WORLD DAY AGAINST CHILD LABOUR " OBSERVANCE MADE AT MELVISHARAM MUNICIPALITY
ICIC BANK MOBILE BANKING SERVICE IN LOCKDOWN AREAS
STATE BANK MOBILE BANKING SERVICE  IN LOCKDOWN AREAS

ePay
The new website https://tnurbanepay.tn.gov.in has been created by incorporating All municipalities and Corporations across Tamilnadu, except Chennai by providing facilities pay tax for asset, drinking water, housing, sewerage and lease categories, and providing birth certificates on-line.
General
District  : Ranipettai
Region   : Vellore Region
State       : TamilNadu
Area
Total     : 8.67 Sq.Kms
Population
Total     : 44786
Male      :  22655
Female :  22131