HONOURABLE MAYOR
Thirumathi V. KAVITHA 
HONOURABLE DEPUTY MAYOR
Thiru. DHARANI SARAVANAN
Thiru K. SARAVANAKUMAR,BBA,BL 
COMMISSIONER,
KARUR CITY MUNICIPAL CORPORATION,
KARUR
From 05-10-2023
Phone Office : 04324 – 260011

Commissioner CUG No. 739 739 6247
E-mail:commr.karur@tn.gov.in / commr.karur@gmail.com

SOPMoHUA  <-  செப்டிக்டேங்க் கீளினிங் செய்யும் போது கடைபிடிக்கப்படவேண்டிய அரசு விதிமுறைகள்
KARUR CORPORATION INVITES APPLICATIONS FROM THE ELIGIBLE CANDIDATEDS FOR THE POST OF 'CARE TAKER' TO WORK ON CONTRACT BASIS FOR A PERIOD OF ONE YEAR. 
KARUR CORPORATION IMPLEMENTED QR CODE BASED GRIEIANCE CUM TAX PAYMENT SYSTEM FROM HOME (PILOT PROJECT LAUNCED IN WARD 26)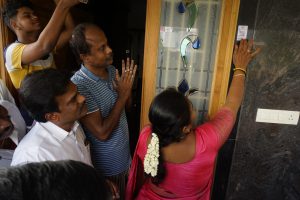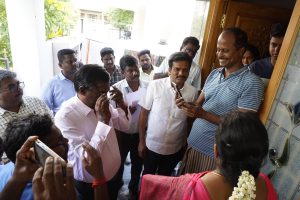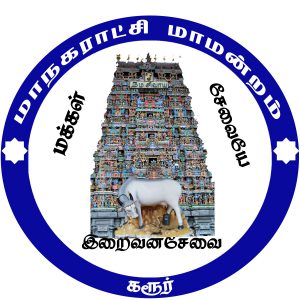 KARUR CITY MUNICIPAL CORPORATION  : TAMIL NADU GOVENMENT GAZETTE :
The Karur Town is situated on the banks of the river  "Amaravathi". This Municipal Corporation  was constituted  in 1874 as a Municipality by British Government. After Independence, The Tamilnadu State Government  subsequently upgraded as Ist Grade Municipality from 24.10.69 and upgraded into Selection Grade Municipality vide G.O. MS. No.651, RD & LA Dated.09.05.1983 and  upgraded as " Special Grade Municipality " from 24.05.1988 as per G.O. MS. No. 526 Dated.07.04.1988. The Karur town comprising of the  revenue villages by  Karur, Inam Karur , Sanapratti and Thanthoni.
The Area of this town is 53.26 sq.km., and the total population as per 2011 census is 145278.Projected population in 2021 about 2,10,500 excluding daily floating popoulation of 15,000. This Municipal Corporation is divided into 48 wards. There is one elected Mayor and 48 ward councilors are in existence.  out of 48wards, 14 wards are  reserved for Women, 4 wards are reserved for Scheduled caste, 2 wards are reserved for Scheduled caste women candidates.
———————————————————————————————
கரூர் மாநகராட்சி  /   தகவல் அறியும் உரிமைச்சட்டம்,
பொது தகவல் அலுவலர் மற்றும் மேலாளர்
அறை எண். 06, தரைத்தளம்,
ஆசாத் ரோடு, கரூர் மாநகராட்சி
கரூர். 639001
தொலைபேசி எண். 04324 260011 / 9788789939
மேல் முறையீட்டு அலுவலர் மற்றும் ஆணையாளர்
அறை எண். 04, முதல்தளம்,
ஆசாத் ரோடு, கரூர் மாநகராட்சி
கரூர். 639001
தொலைபேசி எண். 04324 260011 / 8489916702

ePay
The new website https://tnurbanepay.tn.gov.in has been created by incorporating All municipalities and Corporations across Tamilnadu, except Chennai by providing facilities pay tax for asset, drinking water, housing, sewerage and lease categories, and providing birth certificates on-line.
General
District  : Karur
Region   : Salem Region
State       : TamilNadu
Area
Total     : 13.64 Sq.Kms
Population
Total     : 145278
Male      :  72406
Female :  72872