Temples & Other interesting Places
1.
Kundrakudi  Arulmighu Shanmughanathan Temple
Sri Shanmuganathan Temple at Kundrakudi is located 8 kms from Karaikudi. This temple attracts many pilgrims from Southern Tamilnadu. This 14th century temple was built by the king 'Maruthupandiyar'. He is said to have vision by praying the lord Sri Shanmuganathan. The important festivals of Karthigai Deepam, Thai Poosam, Panguni Uthiram.
2. Ariyakudi   Arulmighu  Thiruvengadamudaiyan Temple
Ariyakudi Perumal Temple is situated 3 km away from Karaikudi town. Ariyakudi Perumal kovil is also known as a "Southern Thiruppathi". The temple is very popular in Sivaganga district.
3. Pillaiyarpatti Arulmighu Karpaga Vinayagar Temple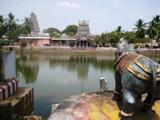 Pillaiyarpatti Vinayagar Temple at Pillaiyarpatti is situated 10 kms away from Karaikudi to Madurai main road. Pillaiyarpatti Vinayagar is also called Karpagavinaygar. Karpagavinayagar is cave temple. The temple is very popular in and around Karaikudi and Sivaganga District in Tamilnadu. Vinayagar Sadurthi is most important function of the Pillaiyarpatti Vinayagar Temple. This temple attracts many pilgrims from all over India.
4. Thirumayam  Arulmighu Perumal Temple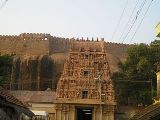 Thirumayam perumal temple is situated 35 kms away from Karaikudi to Trichy main road. It is constructed by Pallava king. Now it is maintained by Central Archeology Department. Thirumayam Perumal Temple is cave temple. It is very ancient temple.   
5. Kannadasan manimandapam
Kannadasan manimandapam is located just opposite to the Municipal office near by New Bus stand.
6. Kamban Manimandapam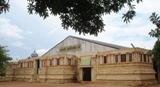 Kamban Manimandapam is located in the center of Karaikudi Municipality in which tamil thai kovil is constructed.
7. 1000 windows House
Very ancient House in Karaikudi  
8. Chettinad Raja Palace
Chettinad Raja Palace is at Kanadukathan. It is located in Trichy Main Road at a distance  of 20 km  from   Karaikudi.  It  is  Famous and ancient  palace  in this Area.