Interesting Places
Gobichettipalayam is simply called as "Gobi". In this station, there is an important place called "Pariyur". In theCity , there is a most important temple called "Kondathu Kaliamman Temple". Here, the Goddess Kaliamman gives her blessings to her devotees. Pariyur is situated 4 kms away from Gobi, – Anthiyur Road. To decide anything,they keep two different colours of flowers in front of the goddess Kaliyamman.The decision depends upon the chosen flower. The total area of the temple covers around 5 acres and the temple is built with marbles. In 1942, "Kumbabhishegam"was performed at this temple.Inside the temple, we can see the statues of "Brammahi, Maheshwari,Gowmari, Vaishnavi, Mahendri and Chamundi. An old man named Gobi Chetti,went to this station from Pariyur and hence it was named "Gobichettipalayam".
Once,the people were affected by an evil disease, and they had many casualities and remaining people moved to other areas. As a result of this the famous goddess, a temple named "Kaliamman" was erected. Outside the temple,Siddhi Vinayagar, Saptha Kannigai, Pongaliamman keep giving blessings to the devotees.
Visiting Times : 6 a.m. to 1.00 p.m. and 4 p.m. to 8 p.m.
Phone Number : 222010
FAIRS AND FESTIVAL     
There are two old hill temples dedicated to Lord Subramania at Pavalamalai and the other to Lord Muruga at Pachamalai by names, at a distance of 3.0 kilometer from the town centre. At a distance of 5.0 kilometer from the town, there is an old "Siva Temple" at Pariyur which was patronized by Cholas and Koysalas.
There is a Kalyanamandapam constructed in a vast area where 4 marriage functions could take place at a time. Also there is an Amman Temple situated in Pariyur which is 5 Kilometer from Gobichettipalayam Town where "Fire Walking Ceremony" is held during Janauary every year. Annual car festival is conducted here in the month of January for three days. This temple attracts large gathering from the surrounding places during festival time.
Places of Interest
Erode district is famous for Turmeric cultivation and Textile manufacturing. There are many tourist places in the district. Among them Bhavani Kuduthurai, Kodiveri Dam, Chennimalai, BhavaniSagar Dam, Pariyur and Kodumudi are very important places.
Bhavani : The rivers Cauvery, Bhavani and Amutha are joining at Bhavani Kuduthurai. This place is as famous as the Thriveni Sangamam at Allahabad. There is a famous temple called Sangameshwarar is situated here. There are many festivals are being celebrated all over the year. Chithirai Car festival is very important one which is being celebrated during the month of April. Bhavani is 15 KMs away from Erode City.
Kodiveri Dam : This Dam is situated at a distance of 65 KMs from Erode and 12 KMs from Gobichettipalayam. This is a Check Dam across the river Bhavani River. This place is famous for natural scenic environment. The boat house and Children park are more enjoyable.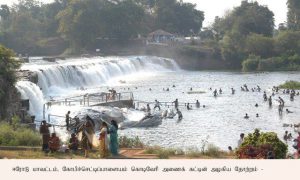 Kodumudi : This is situated at a distance of 36 KMs from Erode on the way to Karur. This place is on the south bank of the river Cauvery. This place is very fertile and famous for agricultural production. There is famous temple where the shrines of the three Lords viz. Bramah, Vishnu and Shiva. It is very rare to find a temple like this where all the three shrines together. Here Shiva is called as Magudeshwarar and Vishnu as Veera Narayana Perumal.
Chennimalai : This place has an ancient temple of Lord Subramaniya Swamy. This is at ditnce of 30 KMs from Erode. This temple is on a small mountain which has 1320 steps for foot path and 4 kms route for vehicles. The sculptures Valli and Deivanai are more artistic. Thaipusam, Panguni Uthiram, Surasamharam and Karthigai Deepam festivals are being celebrated here are very famous.
BhavaniSagar Dam :   This Dam is situated at a distance of 76 KMs from Erode. This is second biggest dam in the state of Tamil Nadu. There is a mountain scenic environment around the dam. There is a beautiful park which is maintained by Public Works Department.
BannariAmman Temple : This temple is situated at a distance of 73 KMs from Erode and 83 KMs from Coimbatore on the way to Mysore. The Mariyamman shrine is here and is very famous in Tamil Nadu. The temple  is surrounded by dense forest. The Kundam festival is very famous here during this, many devotees used to walk through fire. This festival is being celebrated in the month of April.
Apart from these, the bed sheet and cotton carpet are very famous in Erode district. The turmeric market is also an important business in the district.